Best Memory Foam Mattress for Sofa Bed | Comparison of Top 5 Sofa Bed Mattresses
A sofa bed sometimes referred to as a hide-a-bed or sleeper sofa is a furniture piece designed to perform two functions: bed and sofa. You can lie down on a sleeper sofa to read a book or watch television, or seat down on it and spend quality time with friends and family.
Sofa beds are also great for overnight visitors. The mattress pulls out easily from your couch, converting a living room into a makeshift visitor's room.
It is, however, common knowledge that nearly all mattresses that come with sleeper sofas are very uncomfortable and provide very little support.
They are thin, inadequately constructed, and typically cause you to sleep restlessly. And, you may even feel the springs or other interior structures jabbing at your back.
In contrast, memory foam mattresses provide advanced comfort plus pressure point support. In this post, we recommend 5 of the best memory foam mattresses for sofa beds.
We will also bring you the top tips to bear in mind when selecting the best memory foam mattress for your sleeper sofa.
Best Memory Foam Mattress for Sofa Bed: Zinus Memory Foam 5-inch Sleeper Sofa Mattress
If you are searching for a replacement hide-a-bed mattress that will give you or your visitors optimal sleep comfort, you cannot go wrong with this 5-inch mattress by Zinus.
The two-layered mattress features a high-density support foam base that is 4 inches thick plus a gel-infused memory foam top that is 1-inch thick.
The base support foam helps provide enough cushioning to ensure you do not feel the bars of the sofa bed's mechanism. The gel-infused upper layer helps provide the welcoming comfort one would expect from a mattress.
With these two layers, your sofa bed will be a lot more comfortable. All the above reasons make it the best memory foam mattress for sofa bed.
Aside from adding plushness and comfort to the entire mattress, the gel-memory foam top helps normalize the mattress's temperature ensuring you do not wake up sweaty and uncomfortable.
The Zinus mattress also features a plush and removable knitted jacquard cover. This cover adds to the overall comfortability of the mattress.
And, since it comes off, cleaning your mattress will not present any hassles as you can simply remove the cover and wash as required.
The Sofa Mattress by Zinus carries the CertiPUR-US seal. Therefore, you can rest easy with the knowledge that your mattress has been rigorously tested and found to be highly durable, deliver exceptional performance, and are free of toxic substances.
While this Zinus product is an all-foam bed, it provides a decent degree of edge support. Edge support is vital to individuals who have hip or back issues, as it helps keep the body properly supported and aligned while sitting on the mattress' edge.
The mattress's memory foam top layer helps spread out your body weight evenly across the mattress thereby preventing the amassing of pressure points, especially on your neck, hips, and back.
The mattress also contours to your body angles and shapes thus ensuring that your spine stays within a neutral position.
This Zinus memory foam mattress is specially crafted to fit snugly within your sofa bed's mechanism. You can also fold it away when you are not using it and several user reviews note that folding the mattress does not result in indentations or lumps of the mattress's surface.
The mattress sofa is also smartly shipped. It comes compacted, rolled, and shipped within a box. It also offers fantastic value at a highly affordable price point.
Specifications
Size: Twin
Dimensions: 72″ x 32″ x 5″ (L x W x T)
Firmness: Firm
Color: White
Weight: 14.2 pounds
Pros
Offers excellent support
Work great for visitor rooms
Has the certiPUR-US seal of approval
Reasonably priced
Sleeps cool
Very comfortable
No toxic off-gassing
Cons
Somewhat too firm
Complaints of odor
Usage Guide
As soon as you take delivery of your mattress in a box, it is recommended you open it up within 72 hours. Leaving it within the enclosure much longer than 72 hours may lead to extended recovery time.
Do not use any sharp objects when removing the plastic cover to avoid damaging your new mattress.
After removing the hide-a-bed mattress from its packaging, the manufacturers recommend that you walk or roll on the mattress. Doing so will help to open up tiny air pockets so the mattress can expand.
Leave the mattress within a warm room (approximately 70 degrees). This will encourage the mattress molecules to move around thus causing the mattress to undergo thermal expansion.
Leave the mattress within the room for approximately 24 hours for it to open out to its regular size. If you observe any off-gassing (aka new mattress smell), do not be bothered by that as it will fade within one or two days.
User Feedback on Zinus Memory Foam Mattress
Positive Reviews
Below are some of the positive feedbacks from users of the Zinus Memory Foam 5-inch Sleeper Sofa Mattress:
Most reviews agree that the Zinus Memory Foam 5-inch Sleeper Sofa Mattress offers enormous value at an affordable price
Many reviews are happy with the mattress's removable cover with many users noting that it allows for easy cleaning of stains and dirt.
Most previous buyers note that the product is a very comfortable hide-a-bed mattress with many users reporting that they did not feel the bed frame's bar beneath the mattress
Many users say they did not notice any smell after unboxing the mattress
Many users report that the mattress folds into the sleeper sofa with no issues
Several users describe the mattress as amazingly firm yet cozy.
Many customers say it took only one day for the mattress to enlarge to a complete 5 inches
Most users praise the mattress's zippered mattress cover for its perfectly-finished tailoring plus quality workmanship.
Some users who had a few issues to resolve say they are happy with the customer support they got from Zinus
Negative Reviews
Below are some of the negative feedback from users of the Zinus Memory Foam 5-inch sleeper sofa mattress.
A few users report that the mattress is excessively thick when folded and that they could not close the sleeper sofa with the mattress on it

A few users claim the mattress began to sink in the middle after only 6 months of use

Some previous buyers say they found the mattress to be too firm
4 More Top Rated Memory Foam Mattresses for Sofa Bed
1. Classic Brands 4.5-inch Mattress for Sleeper Sofa
This 4.5-inch mattress by Classic Brands made it to this list of the best memory foam mattresses for sleeper sofa because it provides a supportive yet comfortable surface to ensure you never feel the bars beneath the mattress.
Furthermore, it is sufficiently thin and flexible to fold into your sleeper sofa without hassles. The mattress is also adaptive enough to its initial shape each time you unfold it.
With its 72 inches x 58 inches x 4.5 inches (Length x Width x Thickness) dimensions, the convertible mattress is appropriately sized to provide comfortable sleep within tighter sleeping zones outside the bedroom.
This means this product will work great as a camping mattress, boating mattress, or for your recreational vehicle. Also, most reviews agree that the Classic Brands mattress fits nearly every standard pull-out sofa mattress.
The mattress has only two layers with the base layer being high-density foam. This high-density foam plays a key part in ensuring that sleepers never feel the bars.
The mattress's upper layer comprises highly conforming memory foam. The top-quality memory foam helps diminish pressure points as well as aligns the spine adequately.
The memory foam top layer is also gel-infused. The gel helps draw away heat from your body as well as regulate temperature as you sleep. The memory foam also meets Certi-PUR-US program benchmarks for performance, durability, and emissions.
The mattress for sofa arrives compacted and rolled-packed within a box. The box is easy to handle as you will have no issues moving it around corners, up staircases, and through hallways.
Setting up the mattress is an extremely easy process. All you have to do is unbox the product, remove the plastic covering and place the mattress on your sofa bed.
You can then sit back and watch as it decompresses quickly to its initial shape. The manufacturers say you can sleep on your mattress the same night you receive it. The product has a three-year warranty.
2. Milliard 4.5-inch Replacement Mattress for Sleeper Sofa
This bi-layered mattress by Milliard features a 1.5-inch plush memory foam topping beneath a 3-inch firm polyurethane base foam. The two foam layers combine to create a supportive, yet cozy sleep surface that is well-matched for most sofa bed brands.
With a dimension of 72 inches, x 58 inches x 4.5 inches (Length x Width x Thickness) this Milliard mattress will also work great for your RV, boat, and camper.
The mattress has received many praises for its jacquard plush cover, and many reviewers describe it as plush and comfortable to the touch.
This cover is also specially crafted to allow for adequate airflow in and around the mattress. The zippered mattress coat is removable. Thus, when your mattress gets stained or dirty, you only have to take out the cover and machine wash.
The memory foam bed exceeds CertiPUR-US benchmarks for durability, emissions, and performance.
Thus, aside from giving an unparalleled sleep experience, this Milliard replacement mattress sleeper sofa will not expose you or your guests to toxic substances like flame retardants and heavy metals.
The mattress ships within vacuum packaging to ensure convenient delivery. Several reviews agree that there is no off-gassing after unboxing and that the hide a bed mattress folds up simply into the sofa bed.
3. DynastyMattress Memory foam mattress for sofa bed
This DynastyMattress sofa bed mattress is also bi-layered. It has a 2.5-inch support base foam plus a 2-inch gel lush memory foam layer.
These distinct foam layers work together to give you a supportive yet snug sleeping surface that you will find a lot more comfortable compared to regular sofa mattresses.
With a dimension of 72″ x 58″ x 4.5″, the queen-sized mattress is an ideal fit for regular sofa beds. However, it is always a good idea to measure your pull-out sofa before you purchase a mattress for it.
Aside from being a great fit for most sleeper sofa beds, this DynastyMattress product has several other versatile uses. You can use the mattress within a camper van, trailer, boat, recreational vehicle, or boat.
The memory foam upper layer contours to your body providing matchless comfort and support. It also helps ensure that your neck and spine are adequately aligned so you can have a relaxing night's sleep.
And, since the memory foam has gel infusions, it helps boost the mattress's overall breathability so you can stay cool right through the night.
Cleaning this plush convertible mattress is very simple thanks to its washable zipper cover. The mattress arrives compacted and rolled up. After unboxing and unrolling the mattress, let it sit on its frame for approximately 2 days so it can go back to its initial size.
4. Lifetime Sleep Products Mattress
There are two main reasons why this Lifetime Sleep Products mattress works great for sofa beds. First, its 4.5-inch thickness profile means it will fit comfortably on most hide-a-bed mattresses.
Secondly, it features a blend of polyurethane foam (2 inches thick) and premium memory foam (2 Inches). These combine to produce an extremely comfortable and supportive sleep surface.
Most previous buyers of the mattress reported that they never felt the bars at the underside of the bed's frame.
The mattress is specially designed to help you as well as your guests get a good night's sleep. The top memory foam layer delivers body-hugging comfort that is largely appropriate for any sleeping position.
The bi-layered mattress is sag-free and most reviewers say they did not experience any sinking when sleeping on the mattress.
This Lifetime Sleep Products Mattress has the CertiPUR-US certification, which means it is completely free of harmful substances. The product comes with a three-year limited warranty.
The mattress arrives compacted and rolled up. After unboxing, it may take up to 2 days for the product to enlarge to its typical size. If you notice any odor, do not be bothered by that as the odor will dissipate within a couple of days.
How to Select the Best Memory Foam Mattress for Sofa Bed?
Below are some critical factors you need to consider before you settle for a particular memory foam mattress for sofa bed.
1. Size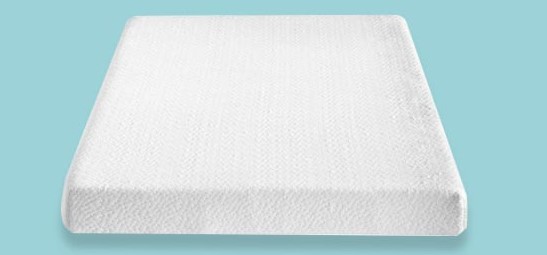 Size is perhaps the most important consideration when selecting a mattress for sofa. These mattresses come in a range of sizes including full, queen, or twin.
While they use similar names for sizing, sizes of sofa bed mattresses are not equivalent to that of traditional bed mattresses.
Mattresses for sofa must be thin so it is easy to fold them away when guests leave or when they are not in use. This is why their average thickness is 4-5 inches.
Before you go shopping for a new mattress for sofa, be sure to measure the height, width, and length of your bed's metal frame. For adequate sizing, you should round down the results to the next full value.
If you purchase a mattress that is excessively small or large, you may have difficulty folding it up, and this can affect the mattress's comfortability.
The products recommended in this post are all adequately sized to fit most traditional sofa bed mattresses however the Zinus Memory Foam 5-inch Sleeper Sofa Mattress is the winner here due to the superior comfort and support it offers.
The mattress is the thickest on this list, which means it will provide the best cushioning against the metal bars underneath the mattress. Also, because it contains more foam, it will almost certainly last longer compared to the other options.
2. Firmness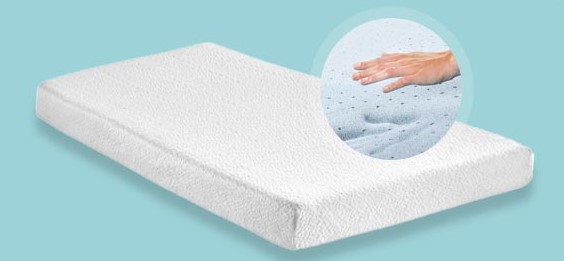 Firmness denotes the degree of softness or hardness of the mattress. Several pull-out sofa mattresses have a medium-firm feel. Memory foam mattresses for sofa generally have a thickness of approximately 4″ to 5″.
This means they may not be thick enough to provide enough cushioning and firmness. Generally, firmer memory foam beds accommodate nearly all sleeping positions. These mattresses offer an ideal balance of support & comfort.
However, always remember that comfort is subjective. What is appropriate for one individual is not always appropriate for another. Testing out the mattress yourself is the best method to ascertain how comfortable or firm a mattress feels.
If you are seeking a comfortable memory foam mattress that is firm enough to help reverse back pain, then the Zinus Memory Foam 5-inch Sleeper Sofa Mattress should top your list of options.
3. Certifications

Selecting the appropriate mattress is essential for sound sleep, yet with loads of options in the market, buying one can be demanding and confusing.
If you want to select a product that does not contain injurious chemicals that can harm your health or that of your guests, then, you should select a product that has been endorsed by a trustworthy quality control board.
The CertiPUR-US certification is arguably the most essential certification that any mattress can receive. This certification signifies that a product has been rigorously tested and found to be free of injurious substances including flame retardants and heavy metals.
All the products recommended here have all gotten the Certi-PUR-US certificate, meaning they will not emit dangerous off-gassing.
4. Warranty
It is recommended that you select a mattress that is backed up by a warranty. A warranty indicates that the makers have faith in their product.
Comparison of Top 5 Memory Foam Mattresses for Sofa Bed
Final Words:
A replacement mattress for sofa bed is something that will benefit you and your visitors greatly. Apart from improving sleep quality, a quality memory foam mattress for sofa can transform an uncomfortable sofa bed into an extremely cozy one.
To ensure you get a fitting pull-out sofa mattress for your needs, always remember to measure your space as well as your sofa before you buy one.