Amerisleep Memory Foam Mattress Reviews [Top 5 Mattresses & Comparison]
Founded in 2010, Amerisleep, a USA-made mattress brand, uses high-performance, eco-friendly, and CertiPUR-US® materials sourced from America and assembled there. According to Forbes, it can be considered the Apple Store of Mattresses.
Amerisleep brand construct five different ranges of memory foam mattresses targeting different type of sleeper – AS1, AS2, AS3, AS4, and AS5.
All models are built with different densities and firmness ranges. For example, the Amerisleep AS3, the most sold model, belongs to a medium-firm mattress. 
Read on to know more about Amerisleep memory foam mattresses including specifications, price range, features offered, and also top-rated Amerisleep mattress reviews and comparisons.
Specifications of Amerisleep Memory Foam Mattresses
100-night trial and 20-year warranty
The soft and ultra-breathable cover improves blood circulation and helps you fall asleep faster.
Suitable for combination sleepers and side sleepers.
Firmness: five different firmness levels- (3, 4, 6. 7, 8.5out of 10)
Size: Available in all standard sizes (Twin, Twin XL, Full, Queen, King, Cal King, & Spilt king) and thickness options is 12" (except for AS5- 14").
Price range: Varies with different ranges. For example, the lowest priced AS1 range is from $649 to $1,398, whereas for AS3, the range lies between $849-$1798, and AS5, the softest of all, is among the most expensive ($1449-2998).
Amerisleep Brand Memory Foam Mattresses Specialty
The brand is a D2C company that pioneered the online mattress buying revolution in the country. The best in the market, it scores high in every department including motion isolation, edge support, spine alignment, durability, cooling, and setup.
The other outstanding features that make it unique are:
1. Using cutting-edge components
 Plant-based Bio-Pur®memory foam is highly breathable, responsive, and eco-friendly. Its ability to contour to the body isolates motion, retain coolness all night long, and relieve pressure points is unmatchable.
In addition, this type of memory foam evenly distributes the sleepers' weight on the mattress surface and keeps the mattress sag-free and comfortable.
2. Ergonomic Construction
The brand features a targeted HIVE® layering on a foam mattress that provides extra cushion to different areas of your body such as the head, shoulder, hips, lower leg, and knee. 
3. Fantastic Product Range
Visioned to cater and target each specific need of the sleeper, the brand has built a product. Amerisleep gives comfort and supports irrespective of its model, but one can pick their preference to feel, sleeping position, health issues, and weight. 
Top 5 Best Amerisleep Mattress Reviews
1. AS1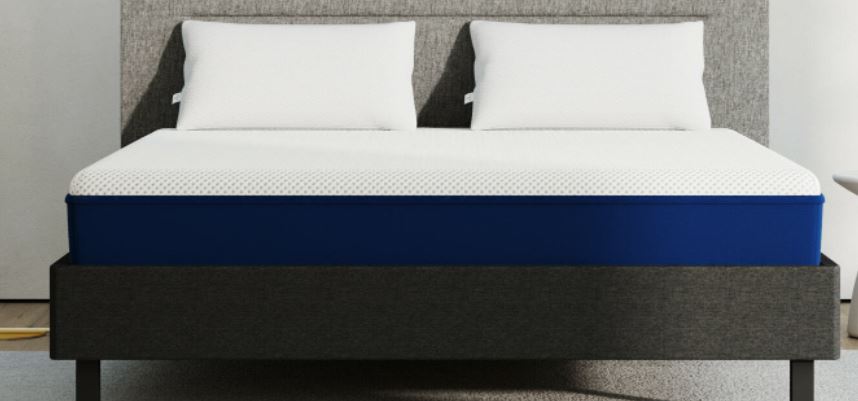 Best Mattress for Back and Stomach Sleepers
In its all-memory foam mattress options mainly categorized on the firmness scale, The AS1 MODEL from Amerisleep is the firmest yet cost-effective.
Available both in-store and online on its home portal, the ASI memory foam mattress is the least expensive memory foam mattress option by this American brand Amerisleep.
The construction has an open-cell design that allows more airflow and provides you with more relaxed sleep.
Built with all Eco-Friendly materials and plant-based oils, its proprietary (exclusive) bio-pure foams offer a quick response in relieving pressure points, especially on the shoulders and hips.
Compared to other models by Amerisleep, the AS1 has the slimmest structure and has been designed with a 2-layer construction- the top is a 2-inch Bio-Pur foam comfort layer, and the base is 8-inch Bio-Core® foam.
These specially curated memory foams are more breathable and responsive to traditional memory foam.
In addition, the mattress is encased in a zippered cover made with a scientifically engineered cotton polyester fabric (contains Celliant), which helps regulate body temperature and improve blood circulation.
The AS1 bed in a box mattress is best for average-sized back and stomach sleepers. Again, it doesn't wholly isolate motion, but it is sturdy and provides strong edge support because of its thick base layer.
The brand offers all standard sizes for all its models. Like all other Amerisleep memory foam mattresses, AS1 is compatible with a diverse range of bed frames and bases. However, unlike some other Amerisleep memory foam models, AS1 doesn't have a hybrid version.
Specifications
Dimensions: 80″ x 60″ inches
Type: Queen
Firmness scale: 7.5-8 (extremely firm)
Thickness:10 inches
Construction(layering): 3 including cover
Certipur US certified
Weight: 75 pounds
Pros
Sturdy and resilient foam
Come with a unique cover
Ideal for back sleepers & stomach sleepers
Good spinal support
Highly durable
Available in 7 sizes- Twin, Twin xl, Full, Queen, King, Cal King & split king.
100 nights of risk-free trial
Warranty 20-year
 
Cons
Light contouring
The Comfort layer isn't really thick
It doesn't offer the cushion or support needed by heavier sleepers
Not recommended for box spring base
2. AS2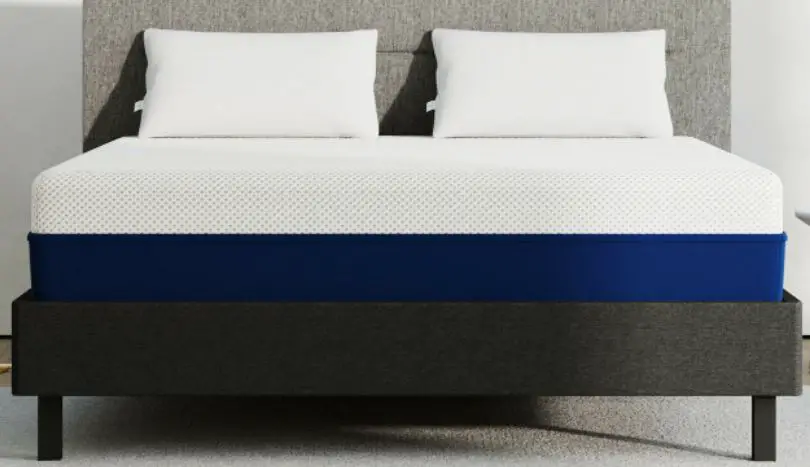 Best Memory Foam Mattress for Back Pain
The 12-inch AS2 memory foam model mattress from Amerisleep is good in providing support and pressure relief as it's a bit less firm but thicker than the AS1 mattress.
The model is also available in a hybrid version (foam plus coil construction design). Considered to be more apt for heavy-bodied sleepers, AS2 is more effective in spine alignment and offers back pain relief.
Like AS1, this model also uses the Bio-pure & Bio-Core memory comfort foam in its layering. The top layer is 2-inch bio-pure foam with a foundation, or the base layer is made with a 6-inch high-density bio-core polyfoam.
However, using an additional 3-inch dense HIVE transition layer of convoluted foam makes the Mattress more contouring and responsive.
In addition, the mattress is encased with extremely high energy transfer capabilities and a celiant blended fabric cover which has a pleasantly cool-to-the-touch feel.
It is more suitable for a stomach and back sleeper as it keeps the hips out of the mattress and the spine aligned in a straight line.
However, a strict side sleeper may not find it very comfortable. Sleeping on the side of the AS2 memory foam mattress will not put much compression on the top layer, proving to have good edge support.
The brand has free shipping and a hassle-free return policy overall the contiguous USA. But shipping to Hawaii, Alaska, and other international locations attracts additional charges. Again, white glove delivery is only available if both mattress and bedframe are purchased together.
Specifications
Dimensions: 76″ by 80″ inches
Type: king
Firmness scale: 6-7 (Firm)
Thickness:12 inches
Construction(layering): 4 including cover
Available option: all-foam & hybrid
Weight: 103 pounds
Warranty 20-year
Pros
Cooling cover 
No heat build-up
Improves blood circulation
Cut down complete motion transfer
Fantastic pressure-relieving feature
100 nights of risk-free trial
Warranty 20-year
Cons
Not meant for side sleeping
Average edge support due to base foam layers
Initial off-gassing 
3. AS3

Most Popular Amerisleep Memory foam Mattress
The most popular memory foam model from Amerisleep is its AS3 model. AS3 is a top favorite among couples who prioritize motion isolation and sleepers who needs deep contouring.
This excellent memory foam mattress is constructed to deliver the right medium firmness required to suit all sleepers.
As all mattresses from Amerisleep are said to be highly durable, and AS3 is no exclusion. The quality and design of AS3 are top-notch. The top comes with an ultra-breathable, cooling, and removable cover, which is plush soft, and washable.
Follows is the brand's proprietary bio-pure foam which bounces back quicker than traditional memory foam. Then comes the transitional layer of HIVE foam with five zoned support (firm at the head and soft at the shoulders).
Finally, the last layer is built with high-density bio-core poly foam, which provides good support and adds to the feature of durability.
Talking about its exceptional performance in motion isolation and edge support, the AS3 scores very high. The mattress also performs well in pressure relief and responsiveness.  
The mattress comes in a compressed and rolled-up in box. It is super easy to set up and has minimal off-gassing, just like other products from the same brand. In addition, the brand offers you a sound sleep guarantee of 20 years along with a 100-nights trial period.
Specifications
Dimensions: 76″ by 80″ inches
Type: king
Firmness scale: 4-5 (medium)
Thickness:12 inches
Construction(layering): 4 including cover
Available option: all-foam & hybrid
Weight: 111 pounds
Free shipping
Pros
Contouring comfort
suitable for all types of sleepers 
Good for users with potent pressure points along the spine
Reduced environmental footprint as it uses biopure memory foam
Cons
Flipping the mattress is not possible.
Not very affordable mattress 
4. AS4
Best Mattress for Side Sleepers
Amerisleep doesn't believe that one mattress suits all. Different sleeping positions and sizes need a different kind of firmness in their beds. The reason the brand opted to design a more profound soft mattress AS4 for side and combination users.
With a profile height of 12 inches and medium-soft firmness feel, The AS4 mattress is ideally suited for an average and heavyweight side sleeper or those looking for standout motion isolation and precise contouring.
Constructed with the same built in3- layer design as AS3, this model has a deeper top layer of pressure-relieving Bio pure foam.
In addition, the AS4 has a 4-inch bio-based memory foam comfort layer, a one-inch airflow design transition layer, and a 7-inch foundation/support layer. The Amerisleep mattresses sleep you relaxed because of many reasons.
First is the outstanding 'celiant blended' mattress fabric cover, which has proved to be very breathable.
Secondly is the open cell structure of the plant-based memory foam, which helps in air circulation, and lastly, the convoluted hexagonal-shaped air channels that constantly provide airflow.
As a result, the AS4 offers a cloud-like comfort while keeping your sleeping surface 7-degree cooler than other mattresses.
It's very comfortable and doesn't give you a stuck or sinking-in feeling.
Specifications
Dimensions: 54" by 75" inches
Type: Full
Firmness scale: 3-4 (medium)
Thickness:12 inches
Construction(layering): 4 including cover
Available options: only all-foam 
Weight: 79 pounds
Pros
Sleeps you cool
Standout motion isolation
Distinct contouring
100 nights risk-free trial
Warranty 20-year
Cons
Stomach sleepers will have a sinking in feeling
5. AS5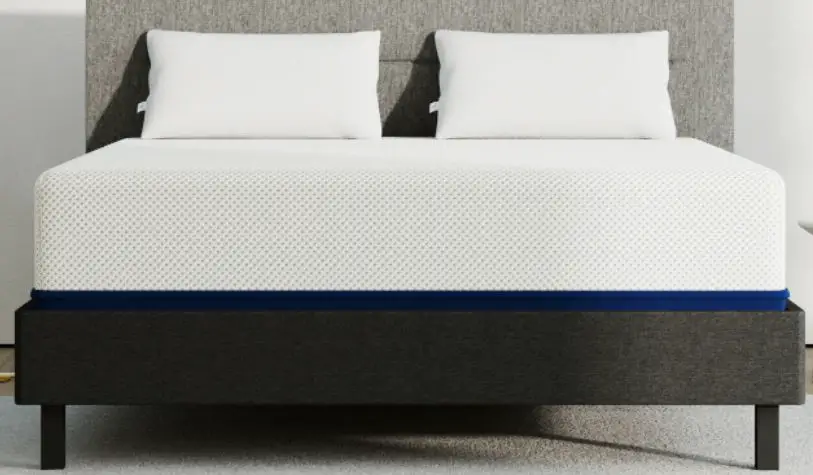 Best Plush Mattress
The AS5 memory foam mattress is the most luxurious & soft mattress in the line-up of Amerisleep. Available in either an all-foam or a foam hybrid version, the AS5 is for those who love to sleep on a plush bed with ultimate motion isolation.
With a profile height of 14′-inches, the AS5 is considered the thickest mattress from this brand. The AS5 is built with good and premium quality materials with multiple layering construction designs.
Just like other models from Amerisleep, the built starts with a top breathable cover made with excellent Celiant fibers that have a feature that prevents overheating.
Then comes the four-core layer constructions. Starting with a 3-inches Open Cell Bio-Pur memory Foam layer, which gives the bounce and responsive nature to the mattress—followed byan extra 2-INCH pressure-relieving responsive foam layer with Active Flex technology.
This layer is also responsible for imparting soft cushioning and more pressure relief to an average body side sleeper. Again, the Active flex-foam helps the user to adjust their positions a bit easier and without any interference.
The third layer is made with 2- inch foam that is convoluted to allow faster airflow, which is responsible for regulating temperature and helping you doze off much cooler. (in the hybrid version, the third layer has the pocketed coil setup).
This transition layer also has a support zone design that provides pressure relief in a targeted area of a body. The final layer is a base high-density polyfoam that is firm. This layer acts as a support layer and provides sturdiness and shape to the entire bedding.
The cloud-like feel of AS5 is outstanding. The mattress contours and conforms to your whole body, and as soon as you get out of the bed, the mattress pops back into place quickly.
Another benefit of sleeping on this mattress is experiencing superb motion isolation and motion transfer (especially in the hybrid version). Edge support in this memory foam mattress is fine, if not best.
Considered suitable for people who sleep hot, the AS5 mattress actually helps you sleep cool because of its aerated cover, open-cell bio-pure foam, and convoluted transition layer.
A perfect buy for those who don't compromise on luxury for money!
Specifications
Dimensions: 80″ x 60″ inches
Type: queen
Firmness scale: 2-3 (plush/soft)
Thickness:14 inches
Construction(layering): 4 including cover
Available Options: all-foam and hybrid
Weight: 105 pounds
Pros
Most luxurious
Better structure
High durability
Great motion isolation 
good edge support
Provide pressure relief in high-pressure areas
Cons
Most expensive
Not suitable for stomach sleepers and back sleepers 
Amerisleep Memory Foam Mattress Price Range
The price of Amerisleep memory foam mattresses varies from $640 to $3000. The lowest priced AS1 range is from $649 to $1,398, whereas for AS3, the range lies between $849-$1798, and AS5, the softest of all, is among the most expensive ($1449-$2998).
Comparison of Above listed Top 5 Amerisleep Mattresses
| | | | | | | |
| --- | --- | --- | --- | --- | --- | --- |
|   | Layering (excluding cover) | Firmness | Available Thickness profile | Ideal Sleeping positions | Weight of queen size (in pounds) | Available in |
| AS1 | 2 | Extremely firm | 10 inches | Back and stomach sleepers | 75 | only memory foam option |
| AS2 | 3 | Firm | 12 inches | Back and stomach sleepers (more comfort to side sleepers than AS1) | 81 | all-foam or hybrid (foam+ coil) option |
| AS3 | 3 | Medium firm | 12 inches | Recommended for all types of sleepers especially side sleepers | 88 | All-foam or hybrid (foam+ coil) option |
| AS4 | 3 | Medium soft | 12 inches | Recommended for side sleepers | 94 | only memory foam option |
| AS5 | 4 | Luxuriously soft (2-3) | 14 inches | Best for side sleepers. Back sleeper may consider it. | 105 | All-foam or hybrid (foam+ coil) option |