Best Places to Find Used Foam Mattress for Sale [What to Check?]
Any used product will have its own pros and cons, and a used foam mattress will also have its own drawbacks and benefits. While cost-saving being a major advantage, there are also several potential problems with a used foam mattress.
However, if you already know those potential problems, and also well prepared to perform a detailed inspection to check every aspect and manage to strike a good deal, then, it will surely make buying the used foam mattress worth it.
Let's understand more details around potentials issues with used foam mattress, what aspects you need to check before going to buy a used mattress to make it worth buying.
Is it worth buying a used foam mattress?
Every used product will come with certain advantages and disadvantages, foam mattress is also not an exception to this. Hence, a used foam mattress will have its own benefits and drawbacks.
Finally, if it is worth buying a used foam mattress or not depends on the constraints and priorities you have.
If you don't have any budgetary constraints, then, obviously, we recommend you to go for a new foam mattress.
If you are running tight with budget, and still want to own a foam memory mattress, then, used memory foam mattress is an option.
Let us understand some of the potential drawbacks of purchasing a used foam mattress before we conclude if it is worth buying or not.
A used foam mattress doesn't assure the hygiene of the mattress. You don't know how the mattress was used and whether it got infected by anything or not.
It can be prone to internal damage, which might aloe be one of the reasons for the sale. If the mattress has internal damage, it might not be a healthy practice for you to use it as it can be uncomfortable while sleeping and may harness your health.
Bed bugs are among the most annoying things when it comes to used foam mattresses. They are tiny and can hide in your mattress. You won't even notice them unless you sleep on the mattress for at least a day or two.
It is very unlikely that you will get any return or refund benefits on used memory foam mattress.
Considering all above drawbacks, you must be thinking, it may not be worth to buy a used foam mattress. Hold on, if you manage to find a good deal, then, you can save lot of money by purchasing a used foam mattress which is huge advantage.
So, it is partially in your control to make the used foam mattress worth buying or not.
As you already know potential problems the used foam mattress may bring in, we strongly recommend you to check every possible aspect and inspect the mattress thoroughly.
Also, don't hesitate to ask seller to provide every piece of information related to the mattress.
It may so happen that the used foam mattress may be used by the previous owner sparingly, and he/she would have taken care of it very well, which will make it a great buy.
On top of it, if you do a good negotiation and manage to get it for low price, then, It is very much worth buying that used foam mattress.
But, if you are not prepared or equipped to inspect and verify all the aspects of used mattress, then, it will become a risky buy.  
Is it legal to sell used mattresses in the US?
The law for selling the used mattresses varies from state to state. These laws are formulated to assure quality and hygienic products to the customers.
Many states legalize the selling of used mattresses for legal stores while some strictly prohibit the sale of used mattresses by retailers. Although, mattress users can sell the used mattress without any obligations all across the US.
The essential factors that are to be considered while selling the used mattresses can be stated as follows.
Sanitization: A few states allow the sale of used mattresses as long as they are cleaned, sanitized, or disinfected in one or another way. If the mattresses are sanitized before the sale, they are allowed to be sold.
Labeling: Some states asked for labeling before the mattresses are doled out. The labels are categorized as either Sanitized or the material reused in the mattresses with yellow or red labels respectively.
Tagging: Tagging consists of the labels that describe the physical condition of the mattress regarding sanitization, or the materials that are reused in the mattress.
The States where it's legal to sell used mattresses but illegal to claim that the mattress is new is Alabama, and Arkansas.
The States where you need to contact your local health department for details are Wyoming, South Dakota, Rhode Island, Oklahoma, North Dakota, New Hampshire, Maine, Idaho, and Alaska.
The state where there are strict laws on the sale of used mattresses is Kansas. While the sale is illegal for the retailers but not for the individuals in Washington, Maryland, Louisiana, and Indiana.
The other states either ask for sanitation before sale or labels to ensure the quality of the mattress. California is the only state that doesn't allow the sale of mattresses with stains.
What to look for while purchasing a used foam mattress?
Buying a used foam mattress is definitely not the most reliable choice but still, if you wish to go for a used mattress rather than a new foam mattress then you need to take care of some factors to make your experience better.
Here is a quick list of the factors that you need to see through before buying a used foam mattress.
1. Use of the Mattress
Prefer the least used mattress. Buying a never-used or rarely used mattress is the best choice, although it's difficult to find them, so you can prefer the mattresses that are least used.
To know this, you can check the external attire or ask the seller more details like date of purchase, usage details etc.,
2. Opt a trusted retailer
Never rely on the private owners for sale as they will not take care of the sanitization and hygiene.
Choosing a trusted retailer will ensure you get a quality product along with timely sanitization, an assured deal, and sometimes even the personal warranty though it is a used foam mattress.
3. Check the mattress
Go through the mattress in extreme detail to save yourself from the signs of any unhygienic or unhealthy maintenance, also check the wear and tear.
Some sellers also offer refurbished foam mattresses, you can opt for that too as it is a much safer and hygienic.
4. Get rid of the bedbugs
Check the signs of bedbugs in the mattress before you buy it. Make sure it is bug-proof while you use it. To be on safer side, you can opt for a waterproof or bug-proof mattress cover.
5. Hygiene Care
Sanitize your mattress thoroughly before you use it. You can use of an antibacterial cleaner for effective results. Placing the mattress under direct sunlight will also help to disinfect it.
Best places to look for used foam mattress for sale
1. Amazon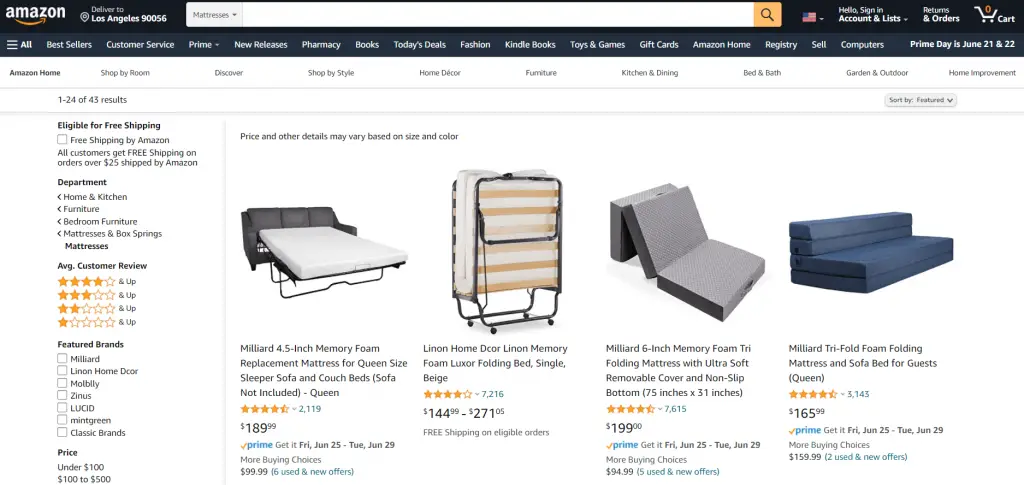 Amazon is one of the biggest online platforms that allow you to resell your foam mattress and get a great deal from it.
While people buy lot of new stuff at amazon, you can also find several used products on amazon including used mattresses as well.
Good thing with amazon is, most of the product come with certain warranty and return/refund policies to protect buyer interest. Hence, go through those details carefully and proceed with the purchase if you like the mattress.
2. eBay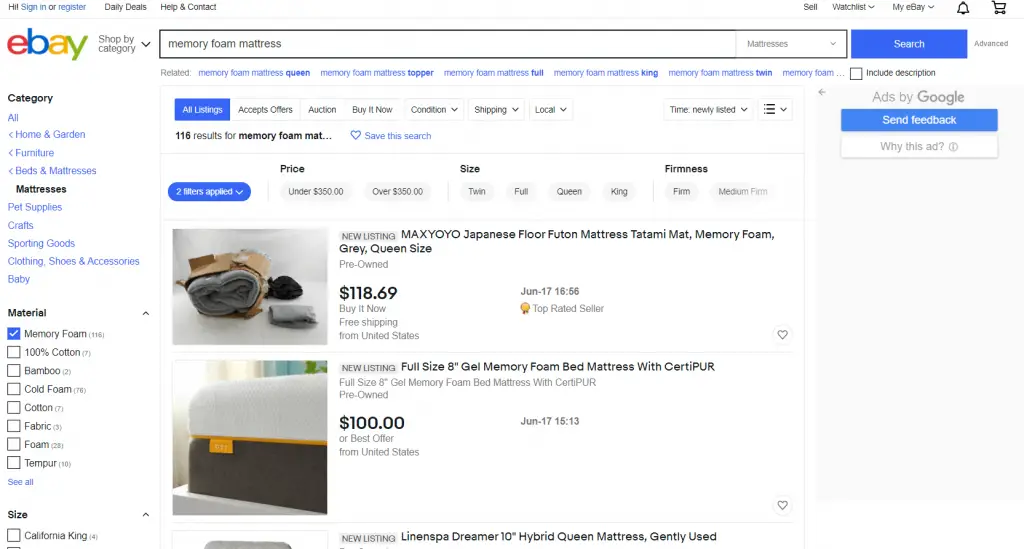 eBay is among the leading reselling online platform that offers a wide variety of used products. You will also be able to find good deals for used memory foam mattresses from eBay.
The best part of ebay is you can interact with seller and ask for all additional details you need before purchase. Also, you will have a possibility negotiate the price on ebay.
However, you need to take additional precautions to verify all provided details are accurate and meet your requirement before you make a purchase.
3. Online Listing Websites (Craigslist, Yelp etc.,)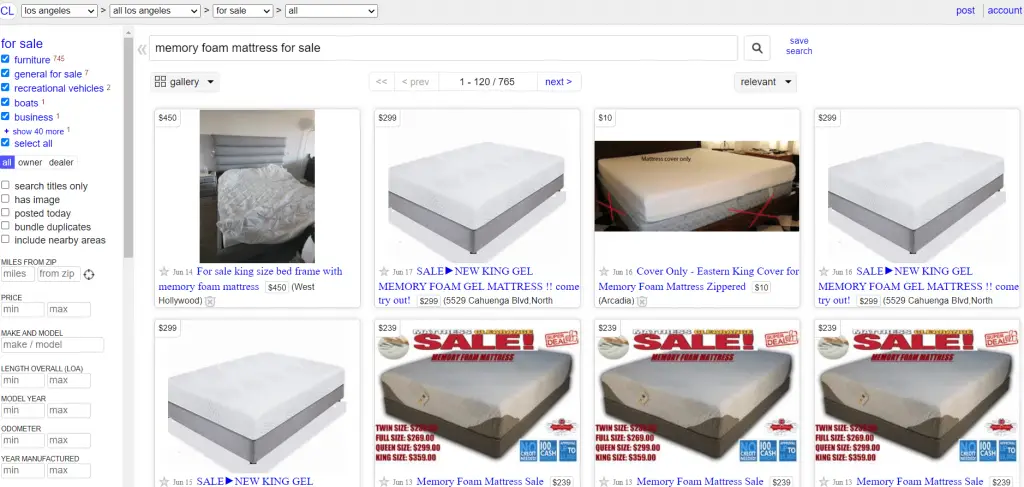 The online listing portals like yelp , craigslist are another source to find used mattresses in your region.
These are trusted classified advertisements websites with multiple sections devoted to diverse categories. You can find the best deal to purchase used mattresses at great prices.
However, you may have to do additional due diligence to get all necessary information from the seller by contacting him/her directly.
4. Facebook Groups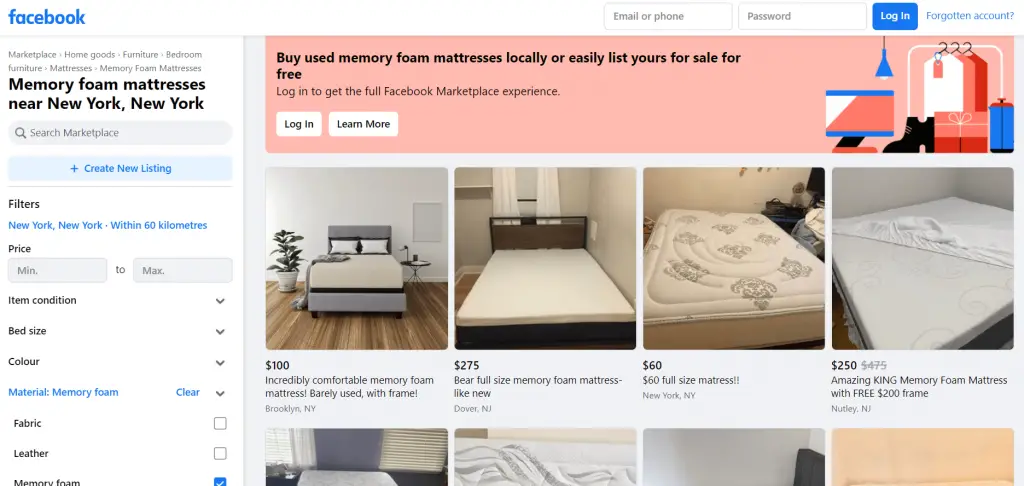 Facebook is the largest social platform used all around the world. There are exclusive Facebook groups for used furniture sales where you can find a used mattress that meets your requirement.
Facebook is an active platform so you will receive immediate responses that will add more to your buying experience.
Connect with the sellers directly through video or voice calls over Facebook to know more about the product.
Also, if the seller is popular on the platform, you can also see the past transactions, feedback, review comments before you make the purchase.
5. Newspaper Classifieds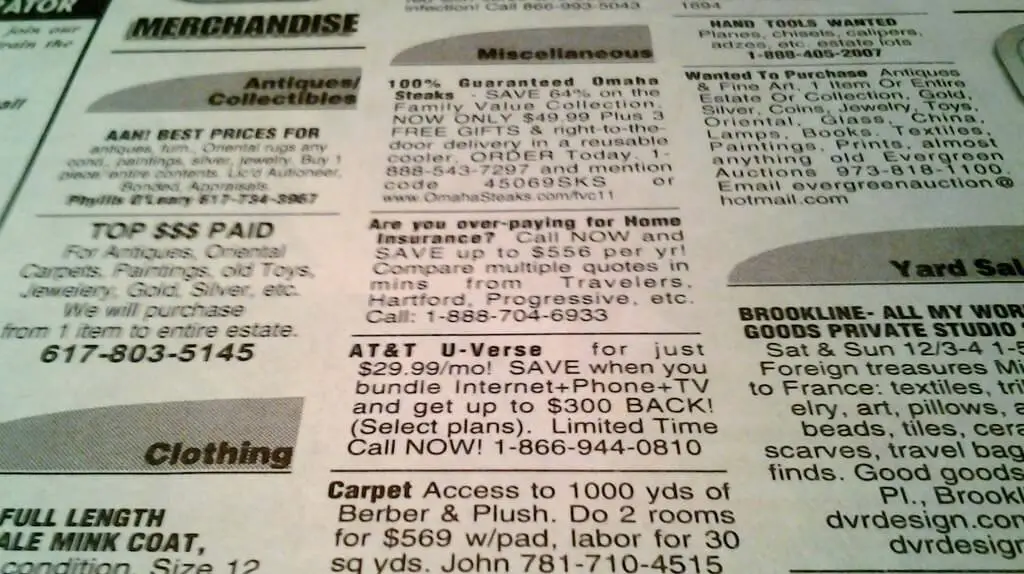 Newspaper ads are one of old traditional ways of finding the products you need in your region, and they work well now in days as well.
You can find advertisements by individuals who wish to sell their used memory foam mattresses.
These ads give you an advantage to directly connect with the seller and also see the condition of the product in person. These ads are not instant but can help to commence a well-informed deal.
Final Words:
Hope, by now, you understood the risks involved in buying a used foam mattress, and also, what exactly need to be checked in a used mattress.
If are tight on budget, then, spend quality time to check all aspects mentioned above, and go for hard negotiations to make it worth buying used foam mattress, it's all in your control now.